Let's go around the world in 6 films! World cinema transports us to new and interesting places. Maybe to places that we would never have an opportunity to visit. Maybe to places that we know nothing about. We created FreeForeignFilms.com to help everyone find movies that both entertain and educate. We find movies with moving and captivating stories. We watch international films for new perspectives and ideas, to experience a bit of the culture, to make us feel something special or to teach us a little about life. Movies take us on a journey and help us get out into the world.
The Challenge
With this in mind, we have created the Around the World in 6 Films challenge. The idea is to expand our horizons by watching six films from different areas of the world. We hope we will learn something new about these areas – the culture, geography, and history – while being entertained with some of the finest free foreign films available.
We will watch one of the films from each geographic area – or we'll find another movie that suits our interests better. Here is a fantastic directory of free films listed by country. (You might have to be logged into your free ReelGood account.)
The Checklist
We selected these world cinema movies because we consider them among the best free foreign films. This is just a very tiny collection of great foreign films. These are interesting movies we love from areas of the world that don't get enough Western attention. The checklist looks like this, and you can download the PDF version below.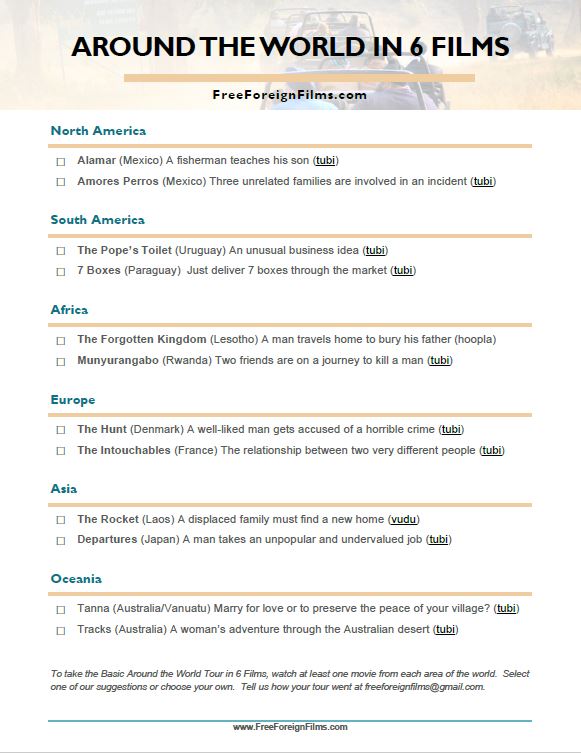 Around The World Movies
Our Around the World in 6 Films world cinema movie list includes Alamar (Mexico) and Amores Perros (Mexico) from North America, The Pope's Toilet (Uruguay) and 7 Boxes (Paraguay) from South America, The Forgotten Kingdom (Lesotho) and Munyurangabo (Rwanda) from Africa, The Hunt (Denmark) and The Intouchables (France) from Europe, The Rocket (Laos) and Departures (Japan) from Asia, and Tanna (Australia/Vanuatu) and Tracks (Australia) from Oceania. You can find a brief description of these films on the downloadable page and a more complete one below:
(Spoiler Alert – Some of the following movie descriptions may contain spoilers.)

North America
Alamar (Mexico): Film Trailer. Stream the free movie HERE.
We can start our Around the World in 6 Films with North America. Here Alamar is a celebration of nature. A fisherman father continues tradition and teaches his young son about life on the sea at the Banco Chinchorro Caribbean reef. The life lessons of the father are taught in much the same way his father taught him. The relationship between fathers and sons is heartwarming, and there is a sense that everything is going to be OK. Despite the storms, despite the separation, despite the rest of the busy and misguided world, everything is going to be fine. The film is small and slow and relaxing and strikingly beautiful and wonderful.
Amores Perros (Mexico – Rated R): Film Trailer. Stream the free movie HERE.
Amores Perros is a great film, but it's a very difficult film to watch, largely because there are very graphic scenes of horrific dog fights and car accidents. There is a notice at the beginning of the movie that no animals were hurt during the filming, and that was probably a good idea, otherwise viewers might sit stunned through the entire film. The movie has three separate love stories, and all of the stories somehow involve dogs. All the stories intersect in a brutal traffic accident. The characters include upper class TV personalities, working class young people, and the homeless. Overall it is intense and emotional and a very fine film.
North American Movie Alternative: The Crime of Padre Amaro (Mexico – Rated R). We have high hopes for the young father Amaro when he is moved to a questionable parish. We have heard rumors of crime and corruption. And there are attractive and seductive pleasures in the community. Evidently some priests surrender to temptation while others make different choices. Is it just a matter of perspective?

South America
The Pope's Toilet (Uruguay): Film Trailer. Stream the free movie HERE.
We continue Around the World in 6 Films with South America. The Pope's Toilet was created from a true story about Pope John Paul II's 1988 visit to Melo, a little town in Uruguay on the border of Brazil. The poor community expects a huge throng of visitors on that day, so enterprising townspeople dream up schemes to capitalize on the tourists. Some sell food, others sell drinks, others sell trinkets. The movie follows Beto, a small-time smuggler who has the idea to build a pay toilet. Beto knows that few public facilities exist, so he tries to save his money – and takes his daughter's college fund – to build a nice toilet outside his home. Unfortunately the anticipated crowds do not arrive, and everything the people have done to make money has been wasted. No one reaps any profit from the brief visit by the Pope. The Pope's Toilet is both funny and heartbreaking.
7 Boxes (Paraguay): Film Trailer. Stream the free movie HERE.
Victor struggles to deliver 7 Boxes with unknown contents in a large, crowded, covered marketplace. The boy is offered $100 to make this delivery, and because he is anxious to buy a new phone, he jumps at the opportunity. Victor didn't know that the delivery was originally offered to Nelson. Nelson desperately needs the money to care for his ill son. Nelson enlists the help of his friends, and they try to steal the delivery from Victor. No one knows what is in the packages, but they are in high demand. There are twists around every turn. All types of obstacles stand in Victor's path – explosions, criminal activity, the police, and Nelson's crew. Victor realizes that he is involved in something very dangerous. And everyone in the market wants money. Money will get you what you need or want. 7 Boxes is an intense and fantastic thriller.
South American Movie Alternative: The Motorcycle Diaries – You can sometimes stream this movie free. It's based on the journals of Che Guevara.

Africa
The Forgotten Kingdom (Lesotho): Film Trailer. The Forgotten Kingdom is available for free on hoopla.
Around the World in 6 Films moves to Africa. A young man, Atang, leaves Johannesburg, South Africa and slowly journeys to bury his father in their homeland of Lesotho. He travels on horseback and meets a variety of mystical characters, including a wise boy who accompanies him. Atang is from the Joburg streets and doesn't much care for the rural life and the beliefs in Lesotho. Yet each character introduces a message and the man is drawn deeper and deeper into the country and deeper into his own identity. The scenes of Lesotho are dramatic and breathtaking and beautiful.
Munyurangabo (Rwanda): Film Trailer. Stream the free movie HERE.
The story takes place after the terrible Rwandan genocide when all appears calm. Sangwa and Munyurangabo (Ngabo) are good friends on a journey. They walk through the countryside on the way to Sangwa's family farm. Sangwa wants to visit his family who he hasn't seen in several years. Ngabo carries a hidden machete and wants to kill a man in revenge for the death of his parents. They arrive at the farm, but Sangwa's parents remind him that he is from a different tribe than Ngabo. And Ngabo cannot be trusted because Hutus and Tutsis are enemies. Sangwa's parents do their best to separate the two friends. It was filmed in a very basic style, without a lot of extra production. But the viewer is right there watching it all unfold. Great film. (Film critic Roger Ebert calls Munyurangabo a "miracle" and a "masterpiece.")
African Movie Alternative: A Screaming Man (Chad). A civil war is raging in Chad, but the hotel in N'Djamena is somewhat insulated. Adam, a former swimming champion, is the pool attendant – a position he feels has some status. New Chinese owners change the direction of the resort and put his own son in charge of the pool. Adam is moved to another position as gate keeper, but he has plans to get his old job back.

Europe
The Hunt (Denmark): Film Trailer. Stream the free movie HERE.
Hopping up to Europe, we continue Around the World in 6 Films. The Hunt is another film on this list that is very disturbing and difficult to watch. A dependable, mild-mannered and sensitive kindergarten teacher is wrongly accused of exposing himself to a child. The accusation goes wrong quickly and turns into a nightmare. The beautiful little town goes irrationally hysterical, and the situation escalates as the teacher loses all of his close friends in the process. He tries to convince his best friends and the community of his innocence, yet they discard his lifetime of near exemplary behavior. They cling to flimsy evidence and reject any notion that he is blameless. With mob mentality, community parents convince themselves that the teacher has abused each of their children. He is goes free, because of a lack of evidence, but the town is certain he is guilty.
The Intouchables (France): Film Trailer. Stream the free movie HERE.
The Untouchables is one of the most popular French film ever. The touching, true story is about Philippe, a very wealthy French quadriplegic, who hires Driss, a Senegalese man from a more modest part of town, to be his caretaker. In the beginning Driss has no interest in the job, but he needs to apply for work to continue his unemployment benefits. Philippe gives him the position despite their obvious differences and Driss's criminal record. Driss moves to Philippe's home and through their time together they eventually become great friends. Philippe introduces Driss to art, opera and painting. Driss brings excitement, energy, humor, R&B music, and a less formal perspective on life. The movie doesn't include any deep inspection of the issues of race and class, but overall this is a feel-good story and a great watch.
European Movie Alternative: A Man Called Ove (Sweeden). Great film about a grumpy man who lives next door. He spends all of his time writing people up for minor community violations. He often visits his wife's grave and tells her that he will soon be joining her. He has little left to live for, then neighbors move in and totally disrupt his life. If you have a hoopla membership, this one is free.

Asia
The Rocket (Laos): Film Trailer. Stream the free movie HERE.
We continue to Asia and some of our all-time favorite movies with Around the World in 6 Films. Although it was an Australian production, I'm putting The Rocket in the Asian film section since it was filmed in Laos and spoken in the Lao language. I loved this movie. It is filmed in the lush green Laotian countryside and highlights rural culture. Ahlo is a little boy who everyone thinks is cursed, dating back to some village folklore. Everything bad that happens to his family is blamed on him, starting with the death of his twin. The family community needs to relocate due to the multinational construction of a dam, so they pack their meager possessions from their traditional home and move to a relocation camp. Along the way, the mother dies in an accident, and Ahlo is blamed.
In the new camp Ahlo meets a couple of other outcasts, a little girl and her unusual uncle, and they become friends. Ahlo causes a village blackout and desecrates a sacred shrine, and his family and friends have to secretly flee. The group eventually finds a deserted village to call home, but it is riddled by unexploded bombs. They move on and find yet another village to stay. The town is having a dangerous rocket building competition with a large cash prize. The competition is for the rocket to explode in a cloud and give the community much needed rain.
Although he is dismissed by everyone, Ahlo is determined to build the best rocket and win the prize to help his struggling family and rid him of his curse. At the last moment he finishes his makeshift rocket, but when he is ready to launch it, he is told that children cannot enter the competition. In a change of heart, Ahlo's father launches it for him.
Departures (Japan): Film Trailer. Stream the free movie HERE.
Departures is one of my all-time favorite free films. It is a heartwarming, touching story that dwells on the sensitive subject of death. This is especially sensitive in Japan where touching dead bodies is evidently considered highly unclean.
Daigo Kobayashi is a cellist in a disbanded orchestra in Tokyo. He has important bills to pay, but now he doesn't have a job. To save money and look for work, he and his wife move back to his hometown where his family home remains. His wife is very supportive and maintains a positive outlook on their situation. Daigo sees an advertisement for a job in what he believes is a travel agency, so he applies. He later learns that it is a job for ceremonial preparing bodies for burial. This job is important and pays well, but it is considered undesirable and unclean. Daigo's wife cannot tolerate his work, so she leaves. But Daigo sees beauty and dignity in the work, and he becomes very good at it. Although his friends are disgusted, Daigo connects families and the departed with this very meaningful and traditional ritual and service. Eventually his elegant and mindful care for the dead is recognized by his wife and friends as Daigo's life mission.
Asian Movie Alternatives: There are so many great Asian films that take us a little deeper into the culture. As an alternative to The Rocket and Departures, how about a couple of more recent films? Shoplifters and Burning. Both of these films are fantastic, and you can find them on hoopla. If you live in Australia (or telecommute), you can find them on SBS On Demand.
Shoplifters is about a group of people living in poverty who sort of form a family. They shoplift to supplement their meager income. They find a little girl who is ignored by her parents, so the family takes her, feeds her, and cares for her. The little one seems happy to be a part of the group, but then her real parents eventually come searching for her.
A young man desperately searches for his missing friend in Burning. Did her new boyfriend have something to do with it? It is a great mystery thriller. You can read my thoughts on the film here.

Oceania
Tanna (Australia/Vanuatu): Film Trailer. Stream the free movie HERE.
We finish our Around the World in 6 Films world tour with Oceania. Tanna is the Vanuatu version of Romeo and Juliette. It is based on the true story of a couple in the community of Tanna. In their community there is a traditional system of inter-tribal arranged marriages. The tribal leader and community decide who will marry who, and there are no marriages where individuals meet and fall in love. Tanna is the story of a young couple who fall in love and decide to marry against their family's and community's wishes.
After an incident of disrespect involving her younger sister and the brutal beating death of her grandfather, Wawa is promised as a bride to a rival tribe. Secretly Wawa is already involved with a man, Dain. The village learns of this and ask her to give up this relationship. They believe the inter-tribal marriage will restore good relations with the rival tribe. They understand that arranged marriages are not always good for individuals, but they are good for communities. And if Wawa does not go through with the marriage, the rivals will cause a war with her community. Dain gets exiled from the land for his relationship. Despite tremendous pressure from her tribe to get married, Wawa slips away and joins Dain. Their story is wonderful and heartbreaking.
The film was shot in the village of Yakel on Tanna Island in Vanuatu. None of the actors had ever seen a movie before filming started. Dain was given the lead male role because he was considered the most handsome man in the village. (Sadly he died of an untreated leg infection in 2019 while he was still in his late 20s.) The story of Tanna is the village's own true story.
The cinematography of the film is stunning and breathtaking, including many incredible scenes from active volcanoes. The forests are flourishing, and the beaches are immaculate. The lava leaps and sparks. Black sand surrounds the volcanoes. Beautiful movie. This is world cinema taking us to a new and nearly magical place.
Tracks (Australia): Film Trailer. Stream the free movie HERE.
Tracks is the epic 1,700 mile, 9-month, journey of a private young woman (Robyn) across the Australian desert. She is mostly solo for the trip, with only her four camels and dog going along with her. She travels from Alice Springs to the Indian Ocean, stopping several times along the way to meet a photographer from National Geographic.
Before starting her trip, she learns to train camels properly, she raises necessary money, and she meets the photographer. The outgoing and friendly photographer finds her very interesting, and accompanies her before and during the adventure a bit more than she seems to want. They have a relationship, but it's not really a romance – despite the way some of the movie posters show.
Her journey is difficult and often seems impossible. The unrelenting sun, the unclear path, the lack of water, venomous snakes and other dangers are obstacles, but Robyn is determined and nearly unbreakable. She is not on a spiritual quest or a trek of introspection, she simply wants to be alone.
Tracks is another film on this list with stunning visuals. The scenery is breathtaking and spectacular. The lighting is beautiful and helps to make this a great film for watching.
Oceania Movie Alternatives:
How about Whale Rider? Whale Rider must be one of the most popular films ever from New Zealand. It's about a young girl who cannot be chief of her people because she is not a man. A thousand years of tradition says chiefs must be men, so the girl tries to convince her grandfather that she has the right qualifications for the job. Great, feel-good film. Whale Rider is free on a number of streaming services now, including tubi and pluto TV.

Family Friendly World Cinema Tour
For a family-friendly Around the World in 6 Films world tour, I would suggest the following list:
North America – Alamar
South America – The Pope's Toilet
Africa – The Forgotten Kingdom
Europe – The Intouchables
Asia – The Rocket
Oceania – Tracks
Have fun, enjoy your world cinema tour, and let us know how it went. ([email protected])
Stay curious!
If you want more foreign films about the world, go to Free Foreign Movies Home