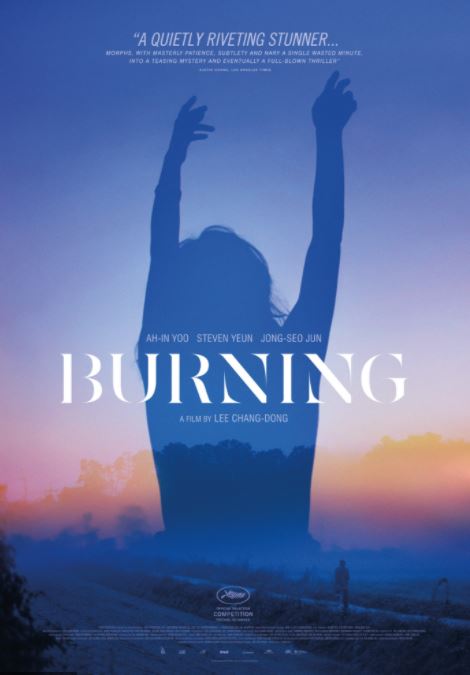 Burning is one of the best movies I have seen in a while. I loved this movie. It was suspenseful and totally absorbing, and worth watching again. The movie was directed by Lee Chang-dong, who also directed Poetry, another film on our favorites list.
An aspiring writer in Seoul, Jong-su bumps into an old friend from back home in his modest countryside village. Hae-mi is attractive and free-spirited, and there is mutual interest between the two. They start a relationship and have sex, but before it gets too far, Hae-mi has to leave for a trip to Kenya. She asks Jong-su to watch her cat while she is away, and he agrees to do it.
Jong-su misses Hae-mi while she is away, and he thinks about her frequently. He goes to her apartment to feed the cat, but he never actually sees it, so he is a little unsure if it really exists.
Hae-mi returns from Kenya with a new mysterious friend, Ben. Jong-su is a bit uncertain if this new friend is a new boyfriend, lover, friend or what. Ben turns out to be somewhat friendly and very wealthy. In a pivotal moment, Hae-mi accepts a ride home from Ben (rich) in his new Porsche after Jong-su (poor) meets them at the airport in his old farm truck.
For a while Jong-su and Hae-mi meet Ben and his bored rich friends at social gatherings. Jong-su seems to have some entrée into the group from his status as a writer. Hae-mi is tolerated as a source of amusement until they quickly tire of her. It is almost as if Ben brings the two friends as odd entertainment for the others – look at the poor people. There is an awkward and uncomfortable class disparity.
Jong-su moves to his family farm near the North Korean border, and from this point on, the three of them are together infrequently. Jong-su feels something is not quite right about Ben, but Ben appears at least superficially friendly, helpful and encouraging. Ben even reads authors like Faulkner that Jong-su likes. Yet Ben's demeanor suggest that he and Jong-su have little in common.
The three of them do meet at the farm one evening. They drink and smoke all night, getting very relaxed. Hae-mi dances topless, and both men confess a secret. Jong-su shares a deep story of family trauma. Ben discloses that he has an unusual "hobby." He likes to burn down greenhouses. He admits that he would like to burn down one in the rural area around Jong-su's farm. He searches for ones that are abandoned and would never be missed, and he keeps a schedule of a burning every two months.
Jong-su is never sure of his relationship with Hae-mi, but he clearly cares for her. But he doesn't trust her fully and he is never sure of her truthfulness. He gets a bad vibe from Ben, but he doesn't have any real evidence that Ben is a bad guy. Maybe he's acting from pure jealously.
Suddenly Hae-mi disappears, and Jong-su is desperate to find her. He suspects Ben has something to do with her disappearance…
While some of the themes of the movie are apparent – class disparity and maybe toxic masculinity – there are several interpretations of this film's ending. Which makes it even more interesting. There are little clues scattered throughout the movie that point to different interpretations. Watch Burning closely and enjoy.
Burning was critically acclaimed and won a ton of awards. It won the Best Foreign Language Film in the Los Angeles Film Critics Association, Best Foreign Language Film in the Toronto Film Critics Association, and the runner-up of the National Board of Review's Top Five Foreign Language Film. It won the Fipresci International Critics' Prize at the Cannes Film Festival. Burning was the highest-rated film in the history of Screen International's Cannes jury grid. It was selected as the South Korean entry for the Best Foreign Language Film at the Academy Awards. It became the first South Korean film to make the shortlist of the Academy Awards for Best Foreign Language Film. The director Lee Chang-dong also won Best Director at 2018 Buil Film Awards (South Korea ceremony) and 2019 KOFRA (Korea) Film Awards. In addition to international acclaim, Burning also won 2018 Grand Bell Awards (Motion Picture Association for Korea) for Best Film and FIPRESCI Award (International Film Journalists) at the Korean Association of Film Critics Awards.
Burning is available on many streaming services now including tubi, vudu, redbox and pluto.tv. You can find these free sites on the Best Free Movie Streaming Sites.
Lee Chang-dong
Lee Chang-dong is a director to remember. It is uncommon that a director appears several times on our favorite film list, the exception being Lee Chang-dong. Chang-dong also directed the film Poetry, and I believe all of his films deserve review and possible inclusion. Basically everything he does is high-quality and widely acclaimed. (Lee Isaac Chung will join that exclusive list when Minari eventually streams for free. Chung's other entry on the list being Munyurangabo, a movie set in Rwanda.)
Chang-dong has directed six films including Green Fish (1997), Peppermint Candy (2000), Oasis (2002), Secret Sunshine (2007), Poetry (2010), and Burning (2018). By all accounts, they are all must-watch films.
Green Fish
Green Fish is about a man who gets involved with a group of criminals in a sort of good vs. evil story. It won Best Film at Blue Dragon Film Awards (excellence in film in South Korea), Dragons and Tigers Award at the Vancouver International Film Festival (celebrating East Asia cinema), and had NETPAC (Network for the Promotion of Asian Cinema) Award's Special Mention at Rotterdam International Film Festival. Green Fish is currently difficult to find to stream online, and the DVD is about $100 on Amazon.com.
Peppermint Candy
Peppermint Candy is a story told in reverse about a Korean man moving backwards through the history of the country. This film won Special Jury Prize at Bratislava International Film Festival (Slovakia), and won three awards at Karlovy Vary International Film Festival (Czech Republic) including Don Quijote Award, Special Jury Prize and NETPAC Award. The film also won Best Film at Grand Bell Awards (the Motion Pictures Association of Korea for excellence in film in South Korea). You can watch Peppermint Candy on OnDemandKorea.com although this does not appear to include English subtitles. It was available on tubi, although this may not be currently available.
Oasis
Free Foreign Film's Oasis Film Review. Oasis involves an unusual relationship between a man and a woman with disabilities. The man is mentally ill and the woman has cerebral palsy. They have a connection as potential enemies through a tragic event, yet they begin an improbable relationship. Chang-dong won the Silver Lion for Best Director (Oasis) at the 2003 Venice Film Festival. The film was the Korean candidate for the Best Foreign Language Film (now Best International Feature Film) at the 75th Academy Awards, and the film was awarded Chief Dan George Humanitarian Award at 2003 Vancouver International Film Festival. Oasis also won the 2003 Venice International Film Festival's Special Director's Award, FIPRESCI Prize, and SIGNIS Award. Chang-dong won the Baeksang Arts Awards (excellence in film in South Korea) for Best Director, and finally Oasis was nominated at the 2005 Independent Spirit Awards for Best Foreign Film. Oasis can be watched free on YouTube.
Secret Sunshine
Like the Chang-dong films that preceded it, Secret Sunshine is about an interesting lead character who experiences difficult challenges. This time a woman suffers through several major tragedies and as a result, she struggles with her grief and faith. Also like the Chang-dong films, this movie was nominated for and received many major awards. The lead actress Jeon Do-yeon won the Canne Prix d'interprétation féminine for best actress. It was South Korea's entry for the Academy Awards for Best Foreign Language Film (now Best International Feature Film) in 2008. Secret Sunshine won won Best Film and Best Director at 2008 Asian Film Awards. It won Best Feature Film at Asia Pacific Screen Awards. It won Best Picture and Best Director at the Korean Film Awards, Best Director at Director's Cut Awards, and the Special Award at the Grand Bell Awards. Secret Sunshine is not streaming anywhere free at the moment, although you can buy or rent it on YouTube.
Poetry
Poetry is about an aging grandmother who struggles to care for her teen grandson. She finds meaning in her simple days by being curious about the world and trying to learn poetry. Her grandson is disrespectful, but she still loves him and tries to teach him how to live a better life before Alzheimer's Disease takes her memory. Poetry is another outstanding film that won many cinematic awards. It won the Best Screenplay Award at the 2010 Cannes Film Festival. Chang-dong won Achievement in Directing in the Asia Pacific Screen Awards. Poetry also won Best Film and Best Screenplay at 2010 Grand Bell Awards (Motion Picture Association of Korea), and Lee won Best Director at 2011 Baeksang Arts Awards (Excellence in Film in South Korea). You can stream Poetry for free on a number of free foreign film sites including tubi. Poetry is also available on hoopla and kanopy.
Find the best movie websites, best films and best TV shows on Free Foreign Movies Home